Handbook & Guides
Health-care providers
The Handbook for Health-care Providers is a document that outlines everything a site needs to know when starting to use eChart Manitoba. The handbook contains comprehensive information such as:
Implementation and Training
Privacy and Security
User accounts
Logging into eChart Manitoba
Patient Forms
Support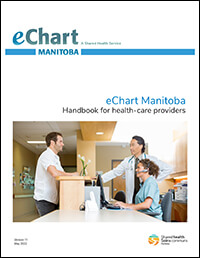 ---
Quick reference guides (QRGs)
The items below may be useful for eChart Manitoba users:
Waiting Room brochures
Health-care Providers
Disclaimer: All data is fictitious and for training purposes only.
---
Lab support materials
Lab hierarchy
The Lab hierarchy includes the current LOINC mappings and hierarchy for the all lab tests from all the lab sources.