Handbooks & Guides
Health-care providers
The eChart Manitoba Services eChart Handbook for Health-care Providers is a document that outlines everything a site needs to know when getting started with eChart Manitoba. The handbook contains comprehensive information such as:
Communicating to patients about eChart Manitoba
Providing access to an individual's personal health information
Implementation and Training
Privacy and Security
User accounts
Troubleshooting
For the most current version please refer to this website as this document may be updated with new content as things change in the system. The version number for the Handbook will change with each update that is made to the document.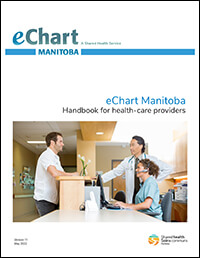 ---
Quick reference guides (QRGs)
The items below may be useful for eChart Manitoba users:
Waiting Room brochures
Health-care Providers
---
Lab support materials
Lab hierarchy
The Lab hierarchy includes the current LOINC mappings and hierarchy for the all lab tests from all the lab sources.