Laboratory
Which Cadham Provincial Lab results will not be flagged?
Lab results such as Viral Load tests, Immune status tests, some referred out tests and Phenylalanine post therapeutic diet; blood spot will not be flagged.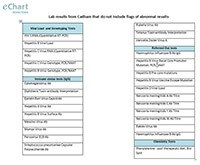 Click here to view a more in-depth list of results that will not be flagged.
What laboratory sources currently provide information to eChart?
Diagnostic Services, Shared Health
Dynacare
Cadham Provincial Laboratory
How quickly do lab results display in eChart Manitoba?
Diagnostic Services, Shared Health, Cadham Provincial Laboratory and Dynacare provide results in real time.
Some lab results may be delayed in being posted to eChart if for example there is any discrepancy found between the demographic information provided in the lab result message and the provincial Client Registry information. If you cannot find a lab result that you think should be posted, please call the Service Desk at 204-940-8500.
What type of lab results are currently in eChart Manitoba?
Click here to view the Lab Results Type table.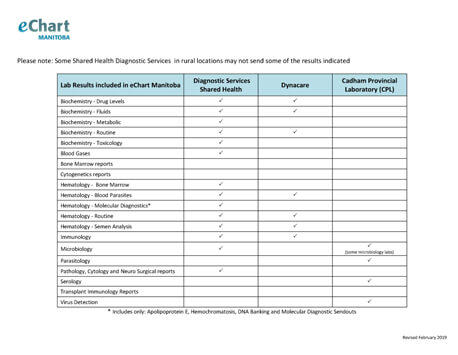 How do I see a result without a collection date?
Navigate to Date View, scroll to "Date Unknown" where results without a collection date are viewable.
Why is the collection time 00:00?
A collection or received time of 00:00 could either mean the sample was collected at midnight or that a time was not provided with the result.
Why are there no antibiotic susceptibilities attached to the Microbiology results from Cadham?
Screening tests are currently only displaying the organism identification for the result. The full microbiology report will still be sent directly to the ordering provider via fax. Cadham is working on sending the attached susceptibilities to eChart in the future.
Are CancerCare test results displayed in eChart?
Test results will be displayed in eChart if the patient has their lab tests performed at a lab which is one of the eChart lab sources (review the FAQs above for more information on sources).
Do lab results for out of province patients appear in eChart?
Generally they will not display in eChart if the results are reported with the out of province health number. However, results for out of province patients will display in eChart if they were seen at a Winnipeg Hospital and assigned an MRN or if they had a Manitoba PHIN at one point as they previously resided in Manitoba. Please note that only results from when the patient resided in Manitoba would display in eChart unless the patient was seen at a Winnipeg hospital as mentioned above.
Newborn screening results will display based on the MRN for all hospitals in Manitoba. If the patient is out of province, they will still be registered with a hospital MRN and results will display in eChart.
How do I search for a newborn screening result in eChart?
There are two ways to search for newborn screening results:
Search by patient's name and date of birth
Search by hospital MRN
What unique patient identifiers will be sent with the newborn screening results from Cadham?
Manitoba newborn screening results will be sent referencing the hospital MRN. A PHIN is not issued at time of birth and therefore not sent with the newborn screening results.
Will all newborn screening results sent from Cadham be available in eChart?
No. Information on Infants born at a birthing centre, midwifery clinic, at home, or outside of a hospital will not be available in eChart. However, if the infant is subsequently admitted to a hospital where newborn screening occurs, these results will be available in eChart.