Encounters
eChart Manitoba Encounters Video

What is Encounters view?
Encounter information in eChart is high level overview information about the admission, visit type and some discharge information from connected provincial ADT EPR source systems. Encounter information includes emergency department discharge summaries.
How do I view EDIS Discharge Summaries?
There are two ways to view a summary in eChart:
Select the Encounters tab, find the emergency encounter, and click on the associated document icon

Select the Clinical Documents tab, scroll to the Discharge Summaries folder, and click on the emergency summary you wish to view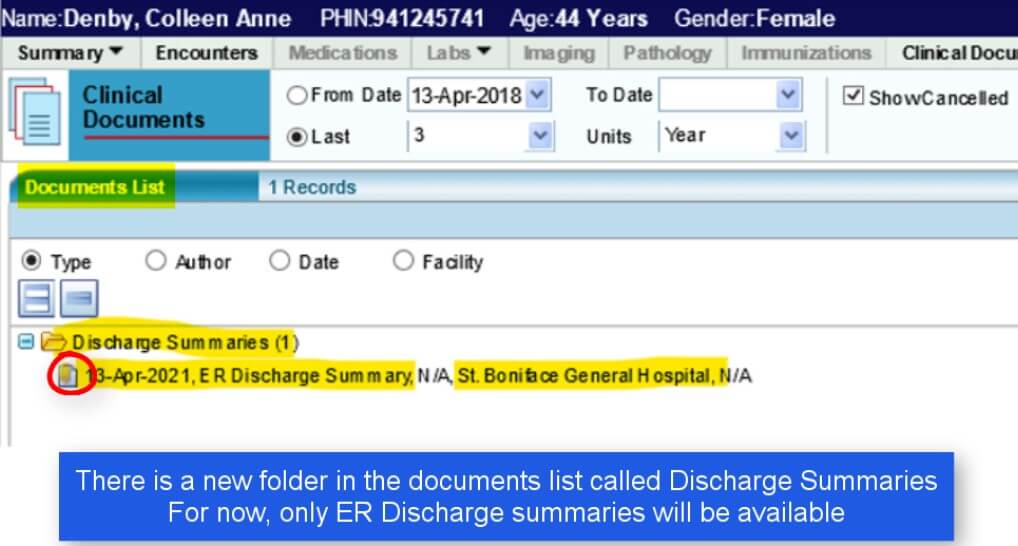 Will there be an Emergency discharge summary if a patient is admitted?
The EDIS Discharge Summary is always sent when the visit/encounter starts as emergency, no matter if the patient will or will not be admitted.
Will I see only Emergency discharge summaries, or are the summaries for other types of visits as well?
An encounter (visit) that doesn't start out within Emergency, will not generate a discharge summary. However, there are a couple of reasons why an Emergency visit won't have a discharge summary:
If the visit was a follow-up visit to ER, for example wound dressing change, etcetera, or a nurse-managed care, as only physicians can generate an Emergency Discharge Summary
If they are late on the clinical documentation. Documentation should be completed within 24 hours of discharge but sometimes this can be delayed.
What types of visits are in eChart?
There are 9 visit types from the EPR:
Day Night Care – for outpatients who receive surgery or a minor procedure and stay for less than 24 hours e.g., day surgery.
Emergency – for outpatients who attend the emergency department.
Indexed – for visits or events tracked in other systems, such as radiology or labs; indexed visit type is used to register the minimum visit level data required.
Inpatient – for patients that are admitted to the hospital and stay for one or more days.
Outpatient – for patients who receive treatment or ambulatory care, but they are not admitted as inpatients e.g., a clinic visit or diagnostic test.
Recurring – a series of outpatient visits for the same episode of care.
Outreach – for patients visited by the care provider in the patient's home/community; or via MBTelehealth or phone call replacing a face to face visit.
Resident – for patients admitted to a designated Long Term Care bed in a Personal Care Home or Interim Personal Care Home.
Ambulatory – an outpatient visit where only essential Visit Demographics are collected. Input screens have been specifically designed to expedite the registration process. Generally used for registering visits for patients receiving walk-in Diagnostic Imaging services.
Where does the Encounter information come from?
Winnipeg Regional Health Authority:
St. Boniface Hospital – Nov. 2011 onward
Concordia Hospital – July 2016 onward
Grace Hospital – July 2016 onward
Health Sciences Centre – July 2016 onward
Misericordia Health Centre – July 2016 onward
Seven Oaks General Hospital – July 2016 onward
Victoria General Hospital – July 2016 onward
Churchill Health Centre – May 2018 onward
Interlake-Eastern Regional Health Authority:
Arborg and District Hospital – July 2016 onward
Ashern-Lakeshore General Hospital – July 2016 onward
Beausejour Hospital – July 2016 onward
Eriksdale – E.M. Crowe Memorial – July 2016 onward
Gimli Community Health Centre – July 2016 onward
Teulon-Hunter Memorial Hospital – July 2016 onward
Pinawa Hospital – July 2016 onward
Pine Falls Health Complex – July 2016 onward
Selkirk Regional Health Center – July 2016 onward
Stonewall & District General Hospital – July 2016 onward
Southern Health-Santé Sud:
Altona Community Memorial Health Centre – May 4, 2017 onward
Bethesda Regional Health Centre – May 4, 2017 onward
Boundary Trails Health Centre – May 4, 2017 onward
Carman Memorial Hospital – May 4, 2017 onward
DeSalaberry District Health Centre – May 4, 2017 onward
Emerson Health Centre – May 4, 2017 onward
Lorne Memorial Hospital – May 4, 2017 onward
Gladstone Health Centre – May 4, 2017 onward
MacGregor Health Centre – May 4, 2017 onward
Morris General Hospital – May 4, 2017 onward
Notre Dame Health Centre – May 4, 2017 onward
Portage District General Hospital – May 4, 2017 onward
Pembina Manitou Health Centre – May 4, 2017 onward
Rock Lake Health District Hospital – May 4, 2017 onward
Ste. Anne Hospital – May 4, 2017 onward
St. Claude Health Centre – May 4, 2017 onward
Vita & District Health Centre – May 4, 2017 onward
Northern Health Region:
Flin Flon General Hospital – Aug. 17, 2017 onward
Gillam Hospital – Aug. 17, 2017 onward
Leaf Rapids Health Centre – Aug. 17, 2017 onward
Lynn Lake Hospital – Aug. 17, 2017 onward
Snow Lake Health Centre – Aug. 17, 2017 onward
The Pas Health Complex – Aug. 17, 2017 onward
Thompson General Hospital – Aug. 17, 2017 onward
Prairie Mountain Health:
Dauphin Regional Health Centre – Jan. 25, 2018 onward
Grandview District Hospital – Jan. 25, 2018 onward
McCreary / Alonsa Health Centre – Jan. 25, 2018 onward
Roblin District Health Centre – Jan. 25, 2018 onward
Ste. Rose General Hospital – Jan. 25, 2018 onward
Swan Valley Health Centre – Jan. 25, 2018 onward
Winnipegosis & District Health Centre – Jan. 25, 2018 onward
Benito Health Centre – Aug. 13, 2018, onward