Clinical Documents
eChart Manitoba Clinical Documents video
What is the Home Clinic Client Summary?
A Home Clinic Client Summary is a document that contains an enrolled patient's key health information provided from a participating Home Clinics. It is a subset of information, not a complete history. If you have any questions regarding the information you must verify with the current Home Clinic – please see the Enrolment Status document.
What does the Home Clinic Client Summary include?
The summary includes the following information as recorded in the Home Clinic's EMR:
Patient demographics and Home Clinic details
Health Conditions and Diagnoses, including those that have not been resolved and those that have been resolved within the last 11 years
Surgeries, Procedures and Interventions
Suspected Allergies and Intolerances
Prescribed Medications, including active prescriptions written within the last 18 months. If there are duplicate prescriptions, only the most recent will show. Note: The medications you will see in the summary include those prescribed by the Home Clinic that may not have been filled.
Vital Signs recorded, including up to the last 6 dated entries showing the most recent ones first
Home Clinic Client Summary Comments, where Home Clinic providers may include additional contextual information considered essential to the ongoing care needs of the patient
How many versions of the Home Clinic Client Summary will be visible?
Only the most recent version of a Home Clinic Client Summary for each patient will be posted.
Is it possible that information is missing from the Home Clinic Client Summary?
Yes. The summary will contain information entered in the appropriate fields of the EMR. If the health-care provider records information in a different field, it will not appear in the Home Clinic Client Summary. If you have questions, please contact the patient's current Home Clinic.
What if there is a difference between the Home Clinic identified in the Home Clinic Client Summary and the Enrolment Status?
It is possible that a patient's Home Clinic is different in their enrolment status report than in their Home Clinic Client Summary. This will occur when a patient has moved from one Home Clinic, which has posted the summary, to another Home Clinic. The Home Clinic Client Summary will remain until the new Home Clinic participates in the Home Clinic Client Summary service and makes entries in their EMR that trigger a new summary to be posted. Please see the example below where the client is presently enrolled to Northwest Clinic and has a summary posted from Southeast Clinic.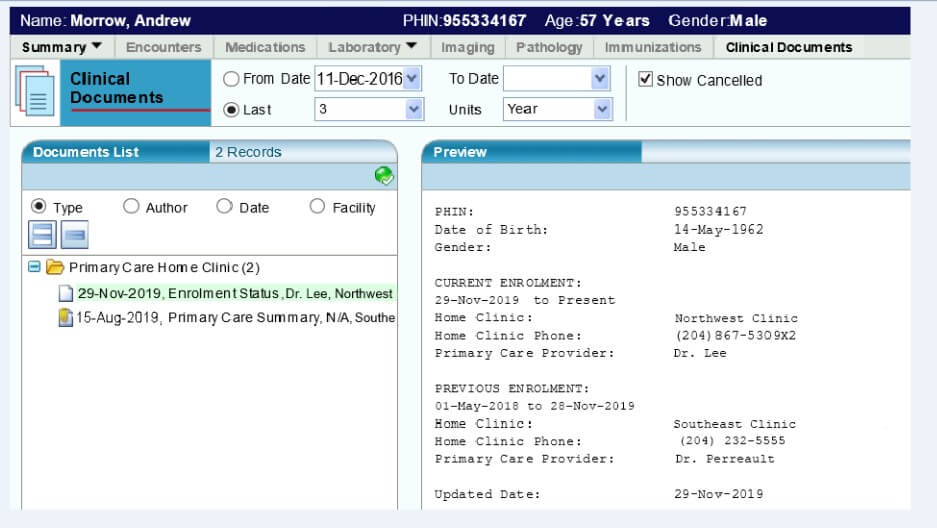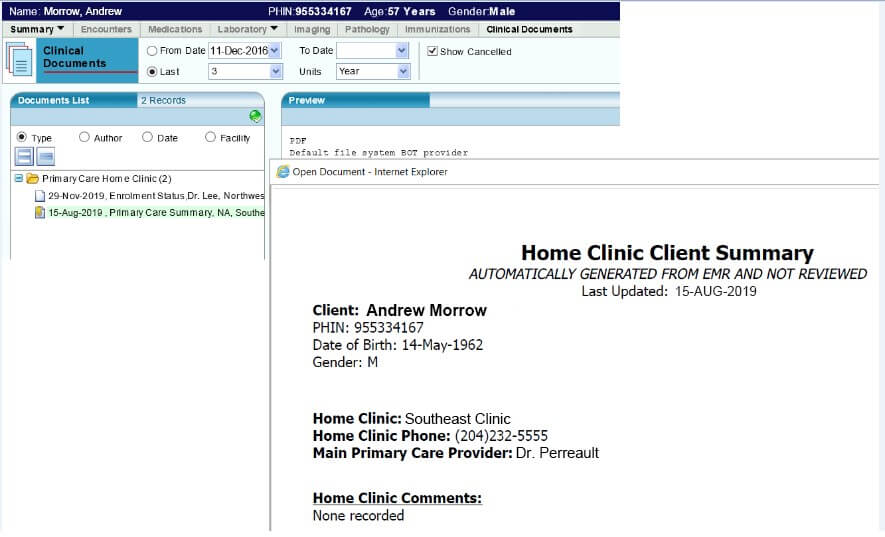 What can I expect to find in Clinical Documents?
The Clinical Documents view in eChart contains reports only. Currently the following report types are visible under the Clinical Documents tab:
Microbiology reports from Diagnostic Services, Shared Health Winnipeg and Diagnostic Services, Shared Health Brandon (also referenced in the Laboratory tab)
Imaging reports from Manitoba's Radiology Information System (RIS) and the Prairie Mountain Health Digital Imaging reports (these are also referenced under the Imaging view)
Enrolment status
Home Care Summary
EDIS Emergency Discharge Summaries
What is the Home Care Summary?
The Home Care Summary is a document posted to eChart Manitoba that provides a subset of patients' key home care information from both home care systems used in the province, known as the Electronic Home Care Record (EHCR).
What does the Home Care Summary include?
The Home Care Summary includes:
• date this version of the Home Care Summary was posted
• home care Case Coordinator contact phone number and primary home care site
• home care departments involved in the patient's care
• home care services and activities provided or planned for the patient (at this time, Prairie Mountain Health region will not be sharing services and activities)
• patient panel application approval date, if applicable
• A cautionary message indicating that the clinician should verify accuracy of information before making treatment decisions
For additional information on Home Care Summary details click here.
How many versions of the Home Care Summary will be visible?
There will only be the most current version of the Home Care Summary available. However, you will see two Home Care Summaries in eChart if the patient is receiving or has received home care services in both Winnipeg and any one of the other regions. In this case, the most recent summaries will appear for both the Winnipeg region and the other region from which they received home care services.
When will a Home Care Summary be available in eChart?
Home Care Summaries will be posted to eChart when there are changes to key patient information.
What do the abbreviations in Home Care Summary mean?
To view the abbreviations list please click here.
What is Enrolment Status?
Enrolment Status provides information on the patient's primary care Home Clinic and their main Primary Care Provider. This includes the patient's current and previous enrolment information. The sharing of enrolment information in eChart Manitoba supports improved comprehensive and continuous care for patients as well as communication between episodic care providers and Home Clinics.
What is Enrolment?
Enrolment is the act of defining an ongoing relationship between a patient and their Home Clinic. Enrolment assists in ensuring the patient receives consistent and reliable care and also helps to direct health-care information within the system more effectively.
What is a Home Clinic?
A Home Clinic is a patient-centered primary care clinic that serves as a patient's home base within the health-care system. Home Clinics are primary care clinics that provide patients with timely access to care, coordinate their health care within the health-care system and manage their health-care records. Having a home base help support comprehensive and continuous care throughout a patient's life.
For more information on Home Clinics, visit: https://sharedhealthmb.ca/services/digitalhealth/home-clinics
Are discharge reports from hospitals or doctor's offices in eChart?
Emergency Department Discharge summaries have been added to eChart since April, 2021. Historical discharge summaries will not appear in eChart. eChart will display a document icon on the Encounters tab and in the Clinical Documents tab under Discharge Summaries. When selected, it will provide a PDF accessible to authorized health-care providers across the province. 
Why do I see lab results in Clinical Documents?
Microbiology lab results contain both text and numerical data and therefore display in a report format so they must be displayed in the Clinical Documents view.
How do I access Microbiology Results?
Although the microbiology test is referenced on the Laboratory and Test History tabs, the result itself is found under the Clinical Documents tab. If you select the test under Labs, you will see the message "see Clinical Document for result details". This means that you will need to click on the Clinical Documents tab in eChart in order to see the microbiology results.